Are YOU a twig on one of these branches?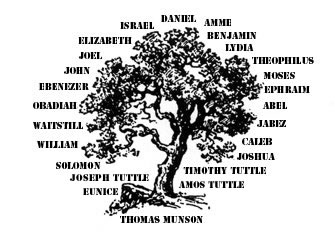 The branches or "clans" of our family tree are named for the great-grandchildren of Thomas Munson who had issue. Each is today headed by a volunteer Clan Historian. The Clan Historians work with the TMF Genealogical Computer Records and Reports Committee (GenDat) to maintain genealogical information regarding persons of each clan, both their lineage and their descendants.
Don't know your clan? Contact the historian.
Contact Your Clan Historian
---
Information About Your Family
---
It is now possible to submit information online about you or a family member. Use the online form to inform the Foundation about new listings, updates for family members already in volumes I-V, or corrections to information about individuals in volumes I-V.
Submit information