The Thomas Munson Foundation (TMF) has divided the United States into seven regions as shown below.  TMF members meet every two years in a regional rotation.  Reunions held by region enable 'cousins' to gather within a limited geographic area to facilitate travel.
Because we are a national organization celebrating a complete Family Reunion at Yale University every 50 years (1887, 1937, 1987, 2037- already scheduled), regional reunions are important to our maintaining a sense of family and to welcoming into TMF previously unidentified descendants of Thomas Munson.
The Regional Reunions have been held regularly as illustrated by the list on this page.  The states comprising each region are also listed below.  'Cousins' often attend Regional Reunions beyond their own Region just because they enjoy being with other 'cousins.'
The Thomas Munson Foundation and the Thomas Munson Foundation Scholarship Boards meet every year.  Smaller reunions held by state or by clan are organized independently.
If you have questions about your region, contact the TMF president.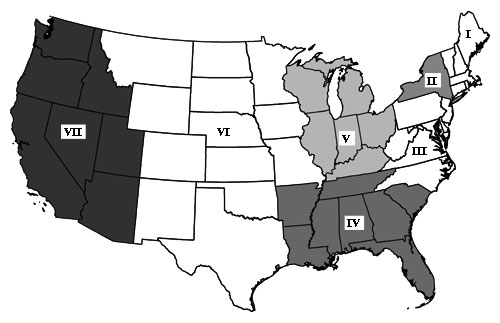 Region I: ME, NH, VT, MA, CT, RI
Region II: NY
Region III: PA, NJ, DE, MD, VA, WV, NC, DC
Region IV: SC, GA, FL, AL, TN, MS, LA, AR
Region V: KY, OH, IN, MI, WI, IL
Region VI: MN, ND, SD, MT, WY, NE, IA, MO, KS, CO, OK, TX, NM
Region VII: WA, ID, OR, UT, NV, AZ, CA, HA, AK
Border regions include the adjacent parts of Canada and Mexico.